Our support helps Welsh businesses create or safeguard jobs, be more innovative and increase their contribution to the economy.
Development Bank of Wales impact
Investment 
As Finance Wales and now as the Development Bank of Wales, we've been investing into Welsh businesses and the economy since 2001.
£0.5 bn
Direct investment into Welsh businesses
£1.2 bn
Invested in total into the Welsh economy
(Figures as of 31st December 2017)
Jobs created or safeguarded
We support the Welsh Government's vision of a strong Welsh economy where businesses grow and create jobs. Since 2001 we have created or safeguarded thousands of jobs in Wales.
48,077
Total jobs safeguarded or created
(Figures as of 31st December 2017)
Development Bank of Wales YTD (2017-2018) 
£47.20 million invested directly into Welsh businesses

£53.82 million additional investment from banks and other private-sector funders

£101.02 million growth capital injected into the Welsh economy

221 investments made, supporting 194 businesses

2,850 jobs created or safeguarded in Wales
(Figures as of 31st December 2017)
Exits
Notable recent exits from companies we invested in include:
Wholebake - a 5.23 return on investment
Vista Retail Support - a 4.47 return on investment
Unite - a 2.61 return on investment
SIPHON - a 2.11 return on investment
Hudman - a 1.7  return on investment
Imspex - partially exited at 1.26 return on investment
As well as exits, we've also supported six companies through initial public offering (IPO) on AIM.
We currently have more than 100 companies in our equity portfolios.
Group figures impact
The Development Bank of Wales Group is made up of the Development Bank of Wales, Angels Invest Wales and North of England fund manager FW Capital.
Group investment history figures since 2001
£578.42 million invested
4,435 investments
£891.22 million additional investment leveraged
54,335 jobs created or safeguarded
(Figures as of 31st December 2017)
The Group's investment history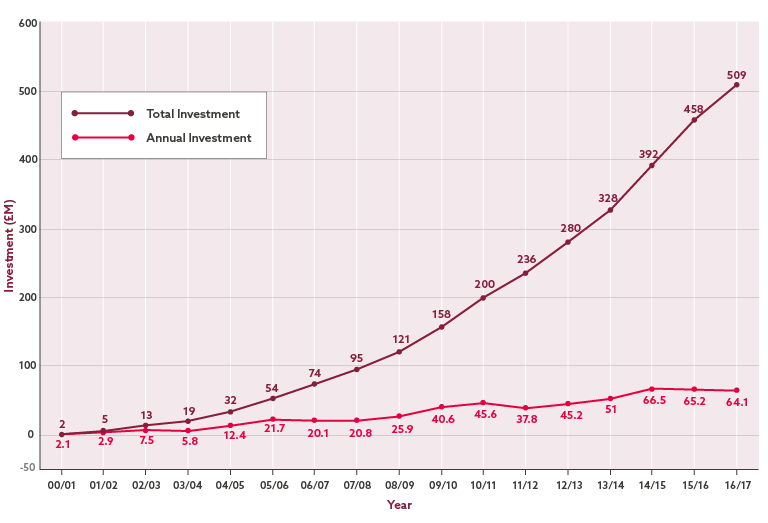 Annual reports
Read our Annual Report and Financial Statements for the 2016-17 financial year which provides audited financial statements for the (Finance Wales) Group as well as additional information about our objectives, how we operate and our achievements.
See our reports and documents section for more.