---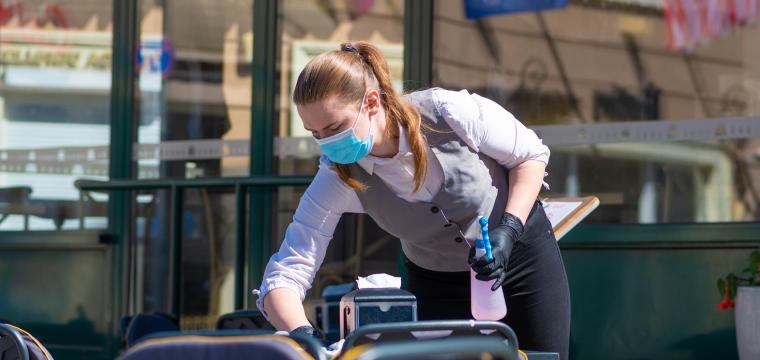 Lockdown easing has begun in Wales and many businesses will soon be opening their doors again.
But the landscape they're reopening in is very different to what it was before, and business owners need to plan thoroughly in order to navigate the challenges presented by this 'new normal'. If you're in the position of reopening your business, here are three tips that will help you to operate safely and successfully in a post-coronavirus world.
1. Put people first
Making your premises safe for people should be your number one priority when reopening. In Wales, employers are legally required to take all reasonable measures to minimise transmission of the virus. This will also be crucial in giving your employees and customers the confidence to return.
First and foremost, anyone who can work from home should. So if anyone in your business, such as back-of-house or administrative staff, can do their jobs remotely, then you should continue to enable and support this (read our blog for tips on how to manage remote employees). Ensure that the number of colleagues onsite is limited to the very minimum necessary for the company to operate safely and effectively.
The current 2m social distancing rule, alongside other measures, must be implemented wherever possible. This may mean redesigning your premises to create a one-way system, with floor markers and signage to remind people to maintain their distance. In certain circumstances where social distancing isn't feasible, then consider what other actions you could take that would reduce the risk of transmission, like putting up physical barriers between people, staggering shifts, or limiting face-to-face scenarios. Read the Welsh Government guidance on reasonable measures to maintain physical distancing.
2. Communicate effectively
It's not enough to just have safety measures in place. You also need to communicate them, along with any changes in your operations that customers, colleagues, vendors and partners need to know about. This might include adjustments to opening hours, appointment booking or product availability.
Some people will be apprehensive about returning, so clear and regular communications will be key to instilling confidence and keeping everyone informed. Demonstrate that you're committed to providing a safe environment by detailing the specific precautions you're taking, like installing plastic screens at checkouts, spacing out seating, or cleaning surfaces regularly. You should also make customers and employees aware of how they can keep themselves safer, for example by encouraging contactless payments or the use of hand sanitiser at cleaning stations.
Use a variety of channels (email, website, social media, intranet, physical displays around your premises, etc.) to communicate your reopening plans, with consistent and transparent messaging across all. It's also important that the communication is two-way, so try to get as much valuable feedback as you can - through one-on-one conversations, anonymous surveys, or social media polls, for example - and modify your operations based on that feedback. 
3. Be flexible
These are highly unpredictable times, so you should be prepared to adapt quickly. It's a good idea to create contingency plans and to make sure that any reopening steps you take are easy reversible, in case of future tightening of restrictions. Making your operations as agile as possible will be key to thriving in this environment – whether that's by changing the way your employees work, engaging with your customers in new and creative ways, or even reinventing your business model.  
Over the past few months many businesses have shown remarkable adaptability and resilience, changing their working processes or product offerings to keep revenue flowing. A survey by FSB Wales, completed by 360 companies, revealed that 22% had moved towards remote working, 17.5% had created a new online presence to deliver their products or services, and 11% had made physical changes to their premises. Read some case studies of Welsh businesses who have diversified during lockdown.
This adaptability will need to continue as we exit lockdown. Not only will you have to consider reopening at reduced capacity to adhere to social distancing rules, but it may take some time for trade and customer confidence to build back up to pre-lockdown levels.
More people have been shopping online since the lockdown began, and these consumer habits may be here to stay permanently. If you've pivoted to e-commerce, delivery or pick-up services, then you should think about maintaining and even expanding these offerings to optimise your revenue streams, even after you reopen your in-house services. Evaluate how your business model may be impacted long term. How might your customers' needs and behaviour change, and how can you create value for them?
A strong online presence is more important than ever, so if you haven't already done so, focus on how you can improve this and ensure good customer experience across your digital channels.
For more information on restarting and reopening your business, visit Business Wales. We'll also be publishing more blog posts over the coming weeks on coronavirus-related topics, so keep an eye on our News section, or sign up to our newsletter.