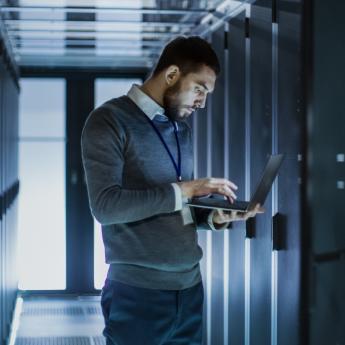 of Welsh SMEs have ambition to grow.*
Track the supply of, and demand for, finance across Wales
Improve understanding of SMEs and their role within the Welsh economy
Create innovative ways of measuring, interpreting and tracking SME data
Identify and address Welsh SME finance data gaps
Improve understanding of the Development Bank of Wales' wider economic impact
Stakeholders
Economic Intelligence Wales is a unique collaboration between the Development Bank of Wales, Cardiff Business School and the Office for National Statistics (ONS).

Cardiff Business School will lead on producing the research outputs utilising data from the ONS, StatsWales, the Development Bank of Wales and other data sources. Representatives from the three organisations form the Economic Intelligence Wales Steering Group which reviews and approves research outputs for publication.
"I see Economic Intelligence Wales as a strategic national asset and a key mechanism that can help shape future policy development within the arena of access to finance."
Economic Intelligence Wales reports
To download published quarterly reports click on the link below.
EIW Quarterly Report June 2018
This is the first in a quarterly series of Economic Intelligence Wales (EIW) reports by Cardiff Business School examining key SME trends in the Welsh economy, particularly in respect to the demand and supply for finance provision.
EIW Quarterly Report June 2018 Infographic 
A summary of the Quarterly Report June 2018.
Contact us
Economic Intelligence Wales is keen to encourage ideas, feedback and collaboration.
If you have any queries or feedback relating to specific Economic Intelligence Wales research outputs contact us.
If you are a University or independent research body that would like to collaborate with Economic Intelligence Wales please send us your details and a brief overview of the proposed research project.
Privacy notice
Under data protection law we must have a valid legal basis for collecting and using your personal information. When you contact us for more information about our products or services, we believe that we have a legitimate interest in being able to respond fully to your enquiry. Your personal data will only be used to respond to your query. For more information, see section two of our privacy notice.
*SME Finance Monitor 2016, published June 2017