---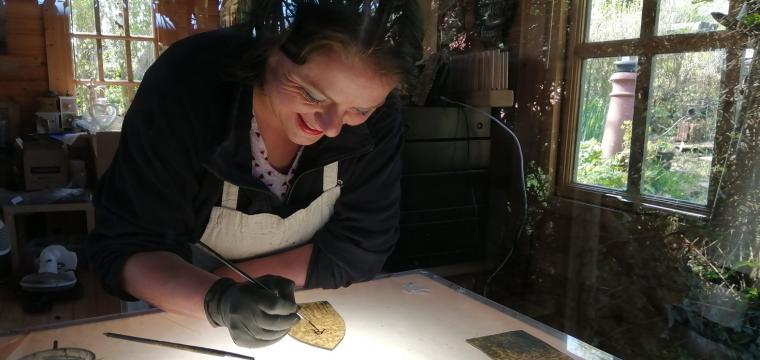 Stained Glass artists Cariad Glass have seen a boost in online sales during lockdown after developing a fun make at home glass mosaic kit to give crafty customers a creative fix.
The Llandysul business received a micro loan from the Development Bank of Wales to support their growth plans and give them working capital shortly before lockdown.
Husband and wife team Justine and Chris Dodd use traditional methods and techniques to create bespoke art and glass pieces, specialising in commission and restoration work. They also offer face-to-face courses at their studio for those who wish to learn more about glass crafts.
Co-owner Justine said: "We realised fairly early on in to the lockdown that we'd need to move production of our studio. We took home a bench and set up a studio in our log cabin summerhouse at the bottom of our garden. We had a few commissions to work on, but needed to postpone all of our classes."
Keen to offer something to do at home for customers missing out on face-to-face courses, the pair came up with idea of a small hanging glass mosaic panel that you can make at home. They filmed the process of putting together a glass mosaic using domestic equipment and put the video on their Facebook page. They were soon inundated with requests to buy the £25 kits.
"Our sales usually come through galleries and exhibitions which are all on hold. Our website shop, the Stained Glass Emporium has been invaluable - we've sold nearly 200 of these kits since we made that post. There's been a real appetite for them and people have loved sharing pictures of their finished creations with us." added Justine.
"They've been so popular that we've drafted in our 18-year-old daughter Hattie to take over the boxing and delivery part of the processes."
Recently the family have moved production back to their studio and are looking at ways that they can safely re-open to the public when restrictions ease.
They've been supported through lockdown by Development Bank of Wales Portfolio Executive Donna Williams. She said: "It's great to see how small west Wales businesses are using their ingenuity and grit to come up with new ways to keep their business going through these uncertain times. Justine, Chris have been fantastic, offering a new product which has provided a valuable creative and mental boost to customers.
"Faced with new restrictions and the need to keep their family safe, they moved their operation to their own home at the peak of the pandemic. Thinking about the needs of their customers first, many of whom have had face-to-face courses postponed, they developed a fun and flexible new product. The 'make your own glass mosaics' have been selling like hot cakes and have opened up a new way of doing business for this family team. We've been happy to support them and are excited to see what the future holds as we slowly return to normal."
Donna works with companies across west and mid Wales and is usually based out of our Llanelli office.