---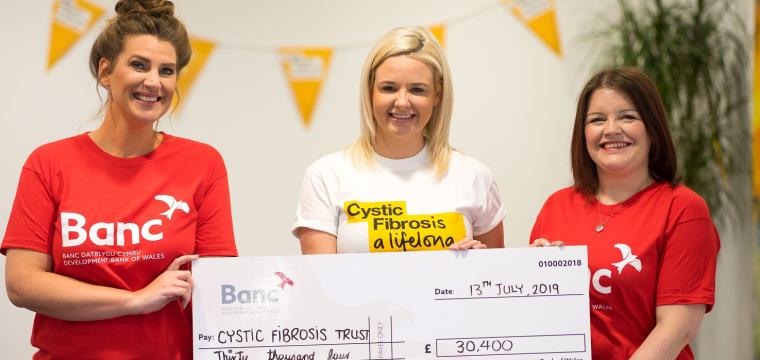 Staff at the Development Bank of Wales have raised £30,400 for their charity of the year, the Cystic Fibrosis Trust. Employees are asked to nominate charities with which they have a personal connection every year, with fundraising starting in July. 
Cystic fibrosis is a genetic condition affecting more than 10,500 people in the UK. The gene affected by cystic fibrosis controls the movement of salt and water in and out of cells. People with cystic fibrosis experience a build-up of thick sticky mucus in the lungs, digestive system and other organs, causing a wide range of challenging symptoms affecting the entire body.
The charity was nominated by Claire Bushby, an investment support administrator for the Development Bank of Wales Group. Claire has personal experience of Cystic Fibrosis and the impact it can have on patients and their families after her brother died in 2005 at the age of 23.  
"This year has meant a lot to me," she explained. "Having the support of colleagues to raise a fantastic amount of money for the Cystic Fibrosis Trust has been really emotional, in a good way. The Cystic Fibrosis Trust do hugely important work, both supporting patients and their families and conducting life-saving research."
Gemma Williamson, Community Fundraiser for the Cystic Fibrosis Trust said: "On behalf of everyone here at the Cystic Fibrosis Trust I would like to say a huge thank you to Claire Bushby and all from the Development Bank of Wales. Throughout the last 12 months the commitment from staff has been incredible and this shows in the astonishing amount they have raised on our behalf! It's been a pleasure to meet and work with all staff who I sincerely hope are extremely proud of the difference they have made to our cause. We have a clear goal – to beat cystic fibrosis for good, but we can only do that thanks to our generous supporters like you.  
"By promoting world-class research, clinical excellence and championing our community on the issues that matter, we are making a daily difference to those living with Cystic Fibrosis and the people who care for them. We won't stop until the day when everyone with Cystic Fibrosis can expect to live a long and healthy life regardless of the condition. Together we can get there."
Staff raised money by hosting a 'Spooktacular' Halloween ball in Cardiff in October last year.  Employees also ran the Wrexham Half Marathon, took part in bake sales, raffles and a staff sports day.
The Development Bank of Wales' new charity of the year is Alzheimer's Research UK. 
Alzheimer's Research UK is the UK's leading dementia research charity dedicated to making life-changing breakthroughs in diagnosis, prevention, treatment and cure. 
Jo Emes, Corporate Partnerships Officer at the charity, said: "We are incredibly proud to launch this partnership with Development Bank of Wales and couldn't be more excited to see what we can achieve together! Research can and will deliver a cure for dementia, and this support will be vital in powering the ground-breaking research that will transform lives."