---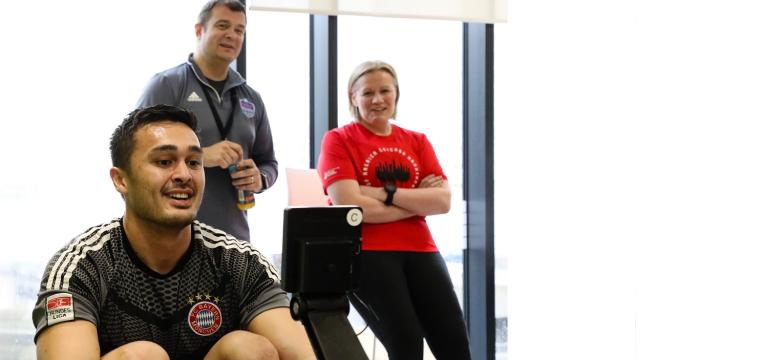 The Development Bank of Wales has raised £53,705 for Alzheimer's Research UK over a 19 month period as their Charity of the Year for 2019/20. Fundraising was extended by seven months to allow virtual fundraising to go ahead in light of Covid 19 restrictions.
Members of staff kicked off fundraising with a charity choir performance and a pirate ball in Cardiff in September 2019, a 24-hour cycling challenge at the velodrome in Newport in October 2019 and a quiz in February 2020. With restrictions cancelling many in-person fundraising events, colleagues banded together virtually; taking part in hiking, rowing and running challenges like the Virtual London Marathon.
The Charity of the Year initiative sees the Development Bank of Wales fundraising for a charity nominated by a member of staff. Alzheimer's Research UK was nominated by Investment Executive Allison Routledge, it is the sixth charity to be chosen as Charity of the Year. Allison said: "I nominated Alzheimer's Research UK as our company charity of the year as my mother-in-law suffered with this cruel disease for 10 years, sadly passing away in June 2020.
"Whilst I was hopeful of raising at least our previous amounts, I and indeed the whole Routledge family have been blown away by the massive amount raised for what is clearly a very deserving charity.  I know these funds will go some way to finding a cure for this horrible condition which I know touches so many people's lives.
"Thank you to all of those who raised funds, in a variety of innovative ways over the 19 months, it is very much appreciated."
Jo Emes, Account Manager from Alzheimer's Research UK said: "The work of Alzheimer's Research UK is only possible because of the generosity and commitment of our supporters. We are thrilled to see such a fantastic total raised, which will help power the vital research that will transform the lives of people with dementia. We can't thank everyone at Development Bank of Wales enough for your brilliant efforts. Together we will make breakthroughs possible."
The Development Bank's new Charity of the Year is mental health charity Mind Cymru. Mind Cymru was nominated by several colleagues across the company. Charity Committee Chair Rebecca Rowden said: "We received a number of calls for Mind Cymru to be on the shortlist for Charity of the Year this year. It was clear from the nominations sent in that everyone knows someone who has been affected by mental health problems and this was particularly heightened during lockdown.
"I'm delighted that we have chosen Mind Cymru as our new charity of the year. By supporting them through our fundraising activities, we can help them be there at the other end of the phone for those in need, raise awareness of mental health challenges and destigmatise conditions which affect over one in four of us at any one time."
Lucy Lloyd, Senior Fundraising Officer at Mind Cymru, said: "We are extremely grateful to have been chosen as Development Bank of Wales's charity of the year. During this pandemic, millions of us have experienced a mental health problem, or seen a loved one struggle. That's why people in Wales need our support more than ever. The awareness and funds Development Bank of Wales raise will help us to step up the fight for mental health. That means fighting for change, for fairness, for respect and for life-changing support.
"Through our support services and our network of 20 local Minds in Wales, we provide help to allow people experiencing mental health problems to live life as fully as possible. Support from Development Bank of Wales will help us to make sure that support is available for people when they need it most. We're really looking forward to working with staff at the Development Bank of Wales throughout the next 12 months."
Sian Price, Research and Partnership Manager for the Development Bank of Wales said: "This is the sixth year we've run our Charity of the Year initiative. It is a fundamental part of our corporate strategy and culture and allows our colleagues to give back to the wider community by raising funds for causes close to their hearts. Alzheimer's Research UK and Mind are two very important charities that are doing valuable work to research and raise awareness of conditions that have a significant impact on many of our colleagues and their families. We're delighted to have raised almost £180,000 for staff nominated charities since 2014 and look forward to continuing our fundraising efforts over the coming years."