---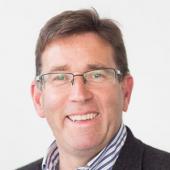 Technology Seed Fund Manager
Published:
We share relevant third party stories on our website. This release was written and issued by BlackDice.
BlackDice is announcing £500,000 of equity seed funding from the Development Bank of Wales and a number of private investors, which will fast-track their international growth.
An alumnus of the GCHQ NCSC Accelerator, BlackDice delivers machine learning software for device management and cybersecurity, integrated into telecoms operator routers and gateways.
After successfully graduating from the highly competitive accelerator in June 2019, BlackDice has secured its first international partnership and has attracted an investment consortium who see the huge potential of a cybersecurity SaaS business.
Paul Hague, CEO and co-founder of BlackDice, commented:
"We have the opportunity to help operators build trust between themselves and their customers. Ensuring that networks and devices remain prepared for the increase in attack surfaces and the increased sophistication of potential attacks, thanks to this investment from the Development Bank, BlackDice will be advancing our technology and expanding the business"
BlackDice was founded by Paul Hague and Paul Jenkins when Paul Hague discovered that a close family member was experiencing severe mental health challenges due to cyberbullying. The company now offers a complete security solution which constantly monitors device behaviour and real time threat to empower people to take back control of their own cybersecurity.
The Development Bank of Wales aims to unlock economic potential in Wales and enhance the local economy by providing sustainable, effective finance. The Development Bank for Wales initially encountered Paul and BlackDice at an IoT Accelerator we supported alongside Barclays Eagle Labs, Inspire Wales and White Horse Capital.
Carl Griffiths, Technology Seed Fund Manager who led the deal for the Development Bank said:
"Paul has an impressive team working with him. Their technology is at the forefront of this market which is developing safer online environments. We are delighted to back them and are looking forward to working with the management as they accelerate their growth."
BlackDice's technology significantly reduces churn, lowers operational costs, and increases revenue per subscriber for telecommunications companies – protecting networks and devices from cybersecurity attacks, monitoring device behaviour, device identification and fingerprinting, real time threat vulnerability assessment and filtering solutions including DNS over https.
Paul Hague and other members of the BlackDice team will be attending Broadband World Forum from October 15-17th in Amsterdam. Get in touch to book a meeting.