---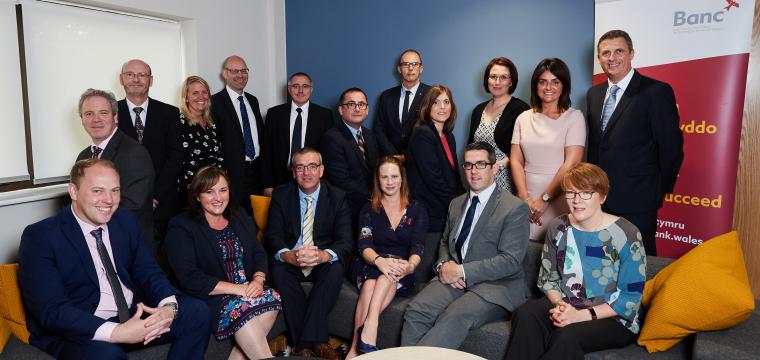 It's been a busy time for the Development Bank of Wales which has supported 82 businesses in north Wales with loans and investments since it was launched in October 2017. 
With its new headquarters being in Wrexham, the development bank is able to have a closer focus on the needs of north Wales businesses.  
And indeed the 82 businesses it has helped here make up nearly a quarter of the 344 across Wales that have received financial backing from the Bank. In money terms, the development bank has made an impact of £34.3m on the local economy, invested £15.6m of direct funds and leveraged a further £18.7m in private sector finance. 
Behind those bare figures lies a real impact on people's lives. Between them those 82 north Wales businesses have been able to create or safeguard a total of 741 jobs across the region in a number of industries including manufacturing, construction and hospitality.  
In its first year the development bank invested 24% more than its predecessor Finance Wales did in its last, for the whole of Wales. To help it achieve this higher level of support for Welsh businesses, the development bank has recruited new staff members across all its offices. There are now 27 based in the Wrexham headquarters, 17 of whom have joined in the last year.  
Of particular importance to north Wales businesses are the investment teams, which have seen eight new members join since October 2017. And the recruitment is still ongoing, with five vacancies, including positions in the portfolio and technology ventures teams.  
The development bank supports businesses in every sector and region and one particularly important sector that has benefited from development bank's support in Wales is tourism and recreation. Nearly 100 businesses in the tourism, hospitality and recreational activity industries have received financial backing from the development bank in the region to date, generating an impact of nearly £15m.   
This is perhaps not so surprising, as it reflects the importance of the tourism and recreational activities industry to the region's economy. This after all is a region that boasts the natural beauty of Snowdonia, the longest and fastest zip lines in Europe and Wales' most famous castles - Caernarfon, Conwy, Harlech and Beaumaris - in addition to the historic towns and resorts of Conwy, Llandudno and Llangollen. 
One company that has benefited from the Development Bank of Wales' backing is Safe and Sound Outdoors, an outdoor education company based on Bridge Street, Llangollen. The company offers a range of outdoor adventure activities including white water rafting, gorge walking, rock climbing and river bugs, as well as stag and hen parties and Duke of Edinburgh expeditions.  
Safe and Sound Outdoors, which was established by Craig Forde in 2007, wanted to move into premises that they owned themselves. They purchased the former HSBC branch and a £150,000 loan from the development bank has enabled them to renovate and fit out the new property, which now boasts seven letting rooms, dedicated classrooms, a coffee shop and outdoor centre complete with changing rooms, showers and storage.  
Director Craig Forde said: "It was a natural evolution to want to own our own premises with the space to provide accommodation for guests, so we were delighted to purchase the former HSBC branch when the opportunity arose. Our new home is perfectly situated alongside the River Dee and we are now able to offer accommodation on site.  
"The funding from the development bank has made all the difference; we simply couldn't have completed the refurbishment or created the new space without their help. Their flexible approach, fast decision making, and proactive support means that we are now ready for the next step of our journey, meeting and exceeding customer expectations. With the help of our builders, G Construction and our designer Hannah of Rosehip and Ink we have realised our dreams."   
Chris Hayward was the Development Bank Investment Executive who arranged the loan to Safe and Sound Outdoors. Describing north Wales as "the adventure tourism capital of Europe", he added: "This is an exciting sector that offers great potential, hence our support for Safe and Sound Outdoors. The company has performed well over recent years with a steady increase in sales and profit.  
"Our funding will now enable further growth with the renovation of premises that are fit for purpose and able to attract more business." 
Rhian Jones is a newly recruited Porfolio Executive in the region, whose remit is to support businesses after they've received initial funding, said: "At the development bank we like to work with our customers on a long-term basis to provide ongoing support that will help them strengthen and grow. I look forward to working with Craig in the coming months on his ambitious project.  
"By building meaningful relationships and getting to understand the customer's business, we can introduce them to additional support." 
Sometimes a start-up only needs a small amount of support to help it on its way. That was the case with the Boathouse Climbing Centre in Llandudno, which secured a £50,000 investment from the development bank along with £25,000 from the founder and another private investor to build a climbing wall. The funding has also helped to fund further renovations in the centre and the founder Andrew Sutcliffe is looking to be fully open to the public in March 2019.  
At the other end of the scale, education and activity business Robinwood, took out a £1.5m loan from the development bank to help them redevelop a disused Victorian hotel building into their new activity centre at Cross Lanes, Wrexham. 
The Maes-y-Nant centre opened this year and is one of four Robinwood has around the country. At the centre, Robinwood runs education activity courses for primary school children between the ages of 7 and 11. Each three-day course includes 15 activities including canoeing, raft building, archery, caving, an 80-metre zip wire and a giant swing. 
One thing that all these businesses have in common is the role they have in the region, providing jobs and ploughing money back into their local communities. Every pound the development bank invests in north Wales helps keep someone in the region in work – and the businesses it supports provide work for other local businesses too.  
This is particularly evident with tourism and recreation businesses. Visitors who come to spend time in the region are likely also to spend money with other local businesses, such as pubs, restaurants and shops. In this way the development bank lives up to its aim of strengthening Wales and its communities by strengthening its businesses. 
Neil Maguinness, Director of Risk, Compliance and Legal who is based at the Wrexham HQ said: "The Welsh Government's Economic Action Plan includes a focus on strengthening Wales' regional economies. The number of businesses we have been able to support in this region is a testament to how accessible our services are, be it through the online Eligibility Checker, or through traditional face to face contact, that our customers value so much.  
"We continue to see ambition and appetite for investment from businesses in the region, supported by a vibrant business community in north Wales."