---
Deputy Fund Manager
Published: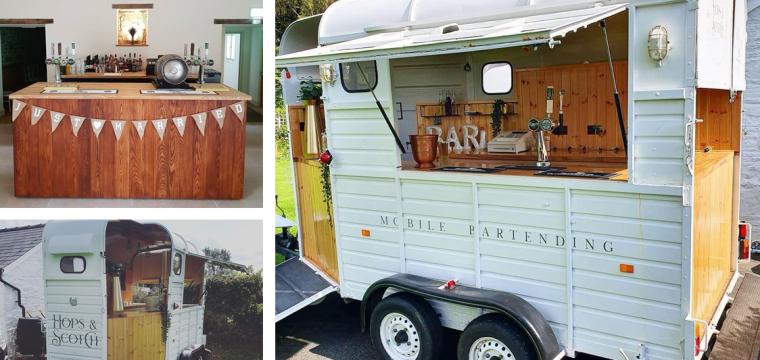 Hops & Scotch are on the menu for event organisers and wedding planners as North Wales couple Chris and Anna Naylor realise their dream of running their own hospitality business.
Based in Conwy, Chris and Anna have purchased Hops & Scotch as a going concern from a family in Monmouthshire. A micro loan of £36,000 from the Development Bank of Wales has now enabled the Naylor's to purchase the brand, goodwill and the assets including a converted horse box and two wooden bars.   
Hops & Scotch provides private bar hire to weddings and private functions throughout the UK. The service includes setting up and styling the wooden bar, fridges pumps and cooling system. Hops & Scotch also provides staff for each event along with a Temporary Events Notice.
With bookings already coming in for 2021 as weddings get rearranged from 2020, the Naylors are preparing for a busy first year of trading. They said: "The current Covid-19 pandemic means that now isn't an obvious time to be starting a new venture but buying Hops & Scotch was too good an opportunity to miss. With the support of the Development Bank of Wales, we're realising our dream of working for ourselves. It's a lifestyle choice that will suit our family perfectly and we know we have the backing of the Development Bank."
Rhiannon Brewer is Deputy Fund Manager for the Development Bank of Wales micro loan team. She added: "Our Micro Loan Fund is perfect for entrepreneurs like Anna and Chris who need finance to purchase a going concern or set-up a new business. Our loans have enabled many businesses across Wales to get off the ground and grow, as well as helping to support business acquisitions. What's more, our flexible approach means that we can structure the terms to suit the business needs."