---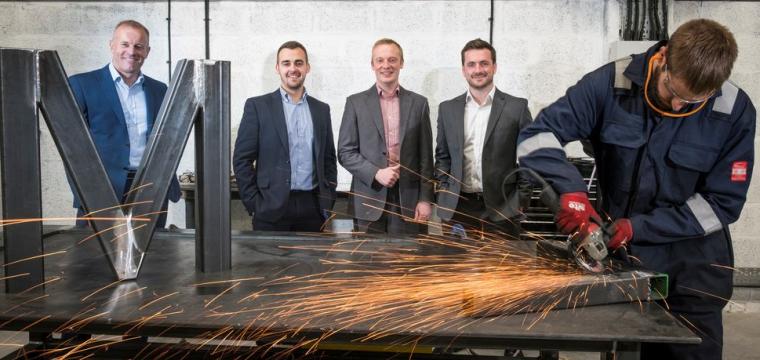 We share relevant third party stories on our website. This release was written and issued by MMEngineering.
As climate-change appears to be causing more and more natural disasters, a Welsh flood-prevention company is gearing up for major expansion.
MMEngineering of Port Talbot, which makes flood and blast defences to protect structures and buildings from the elements, has moved to new premises and is pursuing contracts worldwide, following a six-figure investment.
The funding package, from Tata Steel subsidiary UK Steel Enterprise and Development Bank of Wales, is underpinning an ambitious business plan which foresees turnover rising to above £5 million and 14 staff being taken on in the next three years.
MMEngineering will be installing a new spray booth and fabrication equipment in their new factory on Baglan Energy Park, to cope with new orders for their flood and blast doors and other products.
Run by brothers Chris and Martin McDermid and fellow director James Morton, MME is now promoting its products in Asia and South Africa, and also eyeing markets in the Middle East.
Products include bespoke-designed blast and security doors, flood gates, windows and hatches and are used in many sectors including utilities, construction, chemical and public sector.
"We review the technical aspects of the brief we have and aim to offer a better solution for our clients," said Chris McDermid.
Rigorous on-site testing of the installed products is essential. "We strongly recommend customers test their products after installation and happily help them to do so. We have never had a failure in the testing stage, and this has helped to build the excellent reputation the company enjoys," he added.
In the short term six new staff are to be taken on. "We see big opportunities in years to come, " added Chris McDermid. "We are aiming for a turnover of £5 million in three years, by which time we would be employing 25. In the longer term, we expect to continue to develop and grow."
The big opportunities, says Martin McDermid, will come from the increasing need for protection from dangers - natural and otherwise - around the world. "We will be promoting the business at a major expo in Singapore, Flood Asia, and launching a marketing drive," he said.
MME is already working with a number of clients in the Far East and this is seen as an area with potential.  A project for the mining industry in South Africa is also in the pipeline and enquires are coming from many quarters.
Insurers are increasingly demanding higher standards for protection of assets in the face of threats from climate, terrorism and other hazards, man-made and natural.
MME is working closely with insurance companies and underwriters, and is in the process of gaining official approvals from two of the largest. "The insurance industry has a huge role to play in determining standards of protection, and we are aiming to play a part in steering policy," added Martin McDermid.
Martin Palmer, Investment Executive with UK Steel Enterprise, said: "We are delighted to have been able to support MME, for several reasons.
"In the first place, the company is building on the traditional engineering, fabrication and design skills that South Wales has, and employing people from the area. As well as this, MME has a global perspective and is looking to export Welsh products and skills.
"The company clearly has the skills, products and management to deliver their business plan and we are happy to have been able to assist with funding. We wish them every success for the future."
Ashley Jones of the Development Bank of Wales said: "As a local employer, MMEngineering has an ambitious business plan with potential to achieve worldwide growth over the next few years as the impact of climate change takes hold. Our funding will enable the team to maximise export opportunities from their base in Baglan Park. We wish them every success."
The stakes for MME's clients could not be higher. "A flood or other disaster, for example at an electricity substation, can cause immense damage with the repair bill running to millions, or tens of millions of pounds," commented Chris McDermid. "As the levels of threats increases, it is vital that proper protection is in place."