---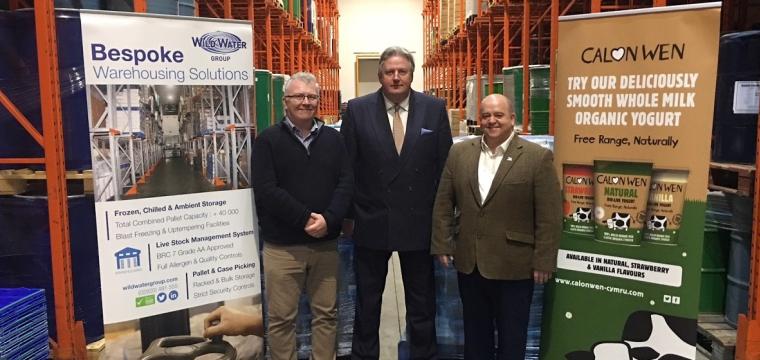 We share relevant third party stories on our website. This release was written and issued by Wild Water Group.
Calon Wen, Wales' leading supplier of Organic Dairy Products, have announced their first export shipment of products to a distributor in Doha, Qatar, and have selected Wild Water Group to provide an end-to-end chilled product storage and distribution solution, using the company's integrated supply chain across their warehousing, co-packing and transport subsidiaries.
The service includes the freight forwarding provision through Wild Water Group's alliance with global freight logistics specialists, GAC Group, who have been active in the Middle East for over 60 years and subsequently developed longstanding relationships with major airlines, such as Qatar Air.
Calon Wen, who's co-operative group now consists of 20 organic dairy farmers and who supply leading supermarkets such as Tesco, Morrisons and Waitrose, are already familiar with international trade, having started exporting to Asia and other Middle Eastern countries two years ago.
Stuart McNally, Sales and Business Development Manager at Calon Wen says, "Although we are already well positioned in other Middle Eastern countries, Qatar is a completely new distribution channel for us. Our market research, however, has identified double-digit demand potential for organic products and therefore we are very excited at the future prospects.
"We are dealing with temperature sensitive products," he adds, "and therefore it is imperative that, for example, our organic butter is not warmed up at any point along the supply chain. It needs to be kept at a constant temperature for the entire journey - from our production facilities around Wales to our distributors premises in Doha.
"We believe that Wild Water Group's growing local infrastructure and bespoke cold storage capabilities, combined with GAC Groups specialist global freight forwarding and logistics expertise, particularly within the Middle East, were the right criteria for selection. We were looking for a 'one stop shop' and are now confident that both companies will collectively accommodate Calon Wen products to their final destination point in Doha."
Ken Rattenbury, Managing Director of Wild Water Group said, "Having the much loved Welsh brand, Calon Wen, as our first food consolidation export order to Doha is really special. This project highlights the true value on offer for our export customers, which is our alliance with GAC Group and their longstanding relationships with major airlines and shipping carriers.
"Wild Water Group can now offer customers a global end-to-end cold chain service, as well as offer the opportunity to link up with other cold store operators around the world and to try and negotiate reciprocal trade agreements. We wish Calon Wen the best of luck with their new export venture."
Wild Water Group and GAC Group will be profiling their turnkey export solution to attendees at the Taste Wales event at the Celtic Manor on the 20th and 21st March 2019.