Non-Executive Director and Chair of the Audit and Risk Committee 
Iraj Amiri is a pioneer in the governance and assurance field, combining detailed and authoritative knowledge of the subject with its practical application.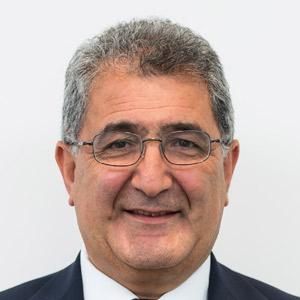 With over 20 years of experience in audit and assurance, Iraj heads up the Development Bank of Wales' Audit and Risk committee.
Throughout his career he has worked closely with major British and European banking institutions and investment companies.
He spent over a decade heading up FTSE 100 Company Schroders plc's internal audit department.
Iraj was also head of the Wellcome Trust's internal audit team – overseeing the management of more than £18bn in investments.
He developed the enterprise risk service line for Deloitte, where he was a partner, taking the unit from its early beginnings to a team of over 600 workforce. Iraj has extensive experience of working at board and trustee level.
He is an ex-trustee of the National Employment Savings Trust (NEST), and is a recognised global expert and authority on internal audit and assurance functions, regularly speaking at internal audit conferences. 
He is also a non-executive director of Aon UK Limited and Coventry Building Society. For both business, he chairs their Audit Committee and is a member of their Risk Committee.