---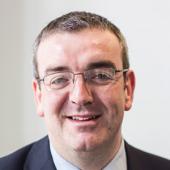 Deputy Fund Manager, New Investments
Published:
Business is booming across north Wales, with the latest figures from the Development Bank of Wales showing an increase in investment appetite across our region. £15 million was invested into 65 north Wales businesses in 2017. The figure is three times the amount invested in 2016. 
Those to benefit include plant, access and agricultural equipment hire firm Ashbrook. Ashbrook (Bangor) Limited is one of 14 businesses in Gwynedd to have secured over £2.7 million of investment from the development bank. The family run business has secured a loan to purchase new premises adjacent to their current depot in Bangor. 
Commercial Director Mike Ashbrook said: "We've expanded, we've invested and we're recruiting." It's an optimistic message from a leading business in the area.
"North Wales is a prime location and the help from the authorities is superb. It's a nice place to work and we are very proud of what we have achieved," he added. "The funding from the development bank has given us a fantastic opportunity and their support has been invaluable in helping our business to thrive. Their loan has enabled us to invest in new premises whilst retaining capital to fund future growth.
£2.26 million backed the growth plans of six businesses in Denbighshire in 2017 while Anglesey saw an investment of £485,000 across nine businesses. This included a £40,000 micro loan for childcare professional Lindsay Boyle to purchase Meithrirfa Blodyn Tatws. The Llangefni nursery cares for 37 children ranging in age from three months to 12 years.
Director Lindsay Boyle said: "The loan has enabled me to purchase the business and provide continuation of employment for the nine staff. The guidance and support from the team at the development bank has been vital as I've taken the first steps on my journey of being a business owner and employer."
Frozen yogurt manufacturer Plas Farm secured a £250,000 investment. Based in Gaerwen, a Development Bank of Wales loan has been used to purchase new equipment and machinery along with funding a sales and marketing campaign. Turnover is predicted to double to over £4 million in the next five years with organic and non-organic frozen yogurts accounting for over 50% of sales.
Businesses based in region's three enterprise zone areas in Anglesey, Snowdonia and Deeside can also benefit from a range of additional financial incentives including reduced interest rates on loans from the newly formed development bank.
It has also been confirmed that the headquarters of the Development Bank of Wales will soon be based in the former Moneypenny offices on the Wrexham Technology Park. The first staff will begin working from the new HQ later this year.
Economy Secretary Ken Skates said: "I am delighted that businesses across north Wales are prospering and growing as a result of support from the Development Bank of Wales.  Our new Economic Action Plan includes a real focus on strengthening our regional economies and ensuring the fruits of our prosperity fall more evenly across Wales, and the development bank's investment in businesses in north Wales is great example of how we are working to achieve this.
"The development bank's new headquarters in Wrexham will only serve to enhance the support on offer to businesses in the region and I look forward to its opening later this year."
The development bank works closely with organisations such as Business Wales as well as other lenders and support groups.
Rhodri Evans is Regional Manager for the Development Bank of Wales. He says: "Our team, which is based across the whole of the North Wales region, has doubled in size over the last year. Further recruitment is in the pipeline as we scale up our operations to ensure that we are well positioned to support businesses of all shapes and sizes.
"We are targeted to have an impact of more than £1 billion on the Welsh economy over the next five years. Having been born and brought up in north Wales, I understand exactly how this will benefit our region as we strive to address the challenges and opportunities facing businesses in the area."
Rhodri added: "We are listening to the needs of the business community; backing local businesses with access to finance that is simple and quick. We are told that our help makes a big difference to growth and sustainability and we are particularly proud of our new online fast track process. Improved in January 2017, we can now offer a streamlined two-day application process for £1,000 - £10,000 micro loans for businesses that have traded for over two years.  It's all about providing much needed capital when it is most needed with an open minded and commercial approach to investment that is very much tailored to meet the needs of local business.
"We're keen to hear from businesses throughout north Wales so please do get in touch."
The Development Bank of Wales offers loans from £1,000 up to £5 million as well as equity investments up to £5 million for Welsh companies or businesses looking to move here. They also manage the Help to Buy Wales scheme, which offers equity loans to people buying new homes in Wales.