---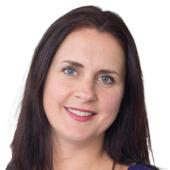 Investment Director
Published:
Updated:
Rhian Elston is Investment Director for the Development Bank of Wales. She says it's all about team Wales on the journey to net-zero.
Here at the Development Bank of Wales, we're on a mission to unlock the potential of the Welsh economy by increasing the provision of sustainable effective finance in the market.
We didn't need COP26 to tell us about the importance of sustainable finance but the global summit has added to our excitement about the opportunities for the green economy in Wales. That's why we're pleased to have supported so many companies proving that efficiency and sustainability make good business sense as well as protect the environment. 
Indeed, we're fully committed to addressing the climate change emergency. Having pledged our support for the Welsh Government's Net Zero Plan, we have set out the ways in which we will continue to deliver on our own internal plans to reach net zero as well as utilising Economic Intelligence Wales to explore policy and product recommendations to inform the transition to a low carbon economy.
Importantly, both debt and equity funding is available for those developing innovative products and services that will help lower emissions. We are lucky to have great tech entrepreneurs and early stage businesses that really are putting Wales on the global map.
For example, as equity funders of FuelActive, we see how their revolutionary technology is ensuring the cleanest fuel available is supplied to the fuel lines of diesel engines and is the first line of protection against contaminated diesel; a global issue with catastrophic consequences. By operating on clean fuel, the engine burns 5% less fuel and consequently reduces CO2 emissions by 5%. As a global cleantech success story, FuelActive's ability to positively influence the performance of diesel engines, which will be in use for the next 30 years, could have a real impact on the environment.
Tackling climate change is a responsibility that we all share but, understandably, owners of small businesses often don't have the bandwidth to begin the journey to net-zero. Here at the Development Bank we are actively supporting our customers to improve and reduce their environmental impact by working closely with our colleagues at Business Wales where their specialist sustainability advisers offer support on grants, renewable energy, environmental sustainability and the Green Growth Pledge.
Chartered Accountants Evens & Co is a great example of a Welsh business that has reduced its carbon footprint, improved the working environment and created jobs by embarking on a sustainability programme with help from Business Wales and funding from the Development Bank.  
A business loan for relocation, coupled with support for the implementation of a Green Growth Pledge, has enabled the company to reduce CO2 emissions and proactively engage with employees, the local supply chain and customers. It's a win-win all round.
Equally important on the journey to net-zero is the investment that we are making in community owned energy projects in Wales. The £12.5 million Local Energy Fund was launched in 2016 by the Welsh Government and is managed by the Development Bank with all monies recycled into new projects once monies are repaid.  
Our support for Egni Co-op as developers of rooftop solar energy in Wales is an example of how our funding is helping to develop successful locally-based enterprises; delivering projects across Wales that are tackling climate change, creating jobs, retaining wealth in the Welsh economy and engaging people in energy.
Ultimately, as an investor looking for a positive impact on the Environmental, Social and Governance (ESG) agenda we aim to promote sustainable growth at all times. For us, it's all about team Wales.