---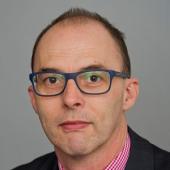 Portfolio Executive
Published:
Updated:
It's always been very important to me to do what I believe in. That's why it's so rewarding to have the flexibility and the capital to back the businesses that I really think can flourish.
Here in Wrexham, it's an exciting time. The launch of the Development Bank of Wales has been warmly welcomed throughout the region and we're now busy providing funding where it is needed most.
I love the fact that I am working with a team at the development bank that shares the same values and client relationship ethos as myself; we genuinely benefit from a positive can-do attitude.
Importantly, there is plenty of scope for growth. From tourism businesses to service providers and food manufacturers, I work with some truly inspirational business owners. I get to work with businesses across a diverse range of industries, in an economy that is ripe for growth.
I really couldn't ask for more. A job I love that gives me the satisfaction of directly influencing the prosperity of the Welsh economy by creating and safeguarding jobs and wealth. It's a win-win scenario for my career and my family.