---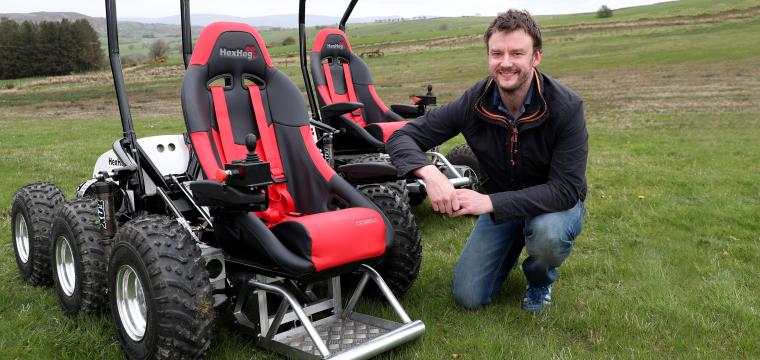 A revolutionary new wheelchair designed and manufactured in Denbigh is set to improve the lives of disabled people who need to go off-road. 
Manufactured by Off-Road Engineering Limited, the 'HexHog' has been designed to bring together the functional attributes of a wheelchair and an all terrain vehicle (ATV). It features a flexible chassis, which keeps all six wheels in contact with the ground - even on the most rugged of terrain.
From a farming family, engineer Sion Pierce came up with the idea when studying engineering at Harper Adams University and hearing about a disabled farmer who couldn't access all of his land safely. He has now secured a £25,000 micro loan from the Development Bank of Wales as working capital to meet order requirements from all over Europe.  
Sion Pierce explained: "Other wheelchairs dubbed 'all-terrain' are suitable for flat or muddy surfaces but struggle with the rugged countryside terrain. Put simply, the Hexhog is a unique mobility vehicle that is changing lives. From private individuals who enjoy an outdoor life to farm workers who have lost their ability to continue working due to an accident, the Hexhog is ideal for anybody with a physical disability who needs the capability of a quad bike but is dependent on a wheelchair."
From farming to fishing, shooting or simply accessing nature, the Hexhog gives independence and freedom on the toughest terrains. With a flexible chassis with 20-inch diameter and six-inch wide wheels, the durable design and quality build means that the all-terrain chair will endure mud, water, sandy beaches, snow or ice.  It has a UK and USA patent for a unique mobility vehicle. 
The Hexhog is powered by lithium-ion battery and has a top speed of 9mph (15kph) meaning that it is compliant with European mobility device regulations. With prices starting from £18,000, it is very cost effective with limited maintenance requirements. 
Sion added: "The help from the development bank has made a huge difference. As a start-up business without security, we didn't meet conventional lending criteria. Their faith in our product and our ability to take it to market means that we now have the cash-flow to fund our initial manufacturing. We're so grateful that they've had the confidence to take the leap of faith needed to support our vision." 
Heather Abrahams is an Investment Executive with the Development Bank of Wales. She added: "Sion has spent five years testing and developing the Hexhog in the harshest of mountain terrains and extreme environments.  This is the ultimate off-road wheelchair offering unprecedented access to extreme terrain. 
"We are always very proud to support home-grown businesses that are run by local entrepreneurs who share our commitment to supporting the Welsh economy. Off-Road Engineering has great international potential and we're delighted to see that orders for the Hexhog are already coming in."