---
Deputy Fund Manager
Published: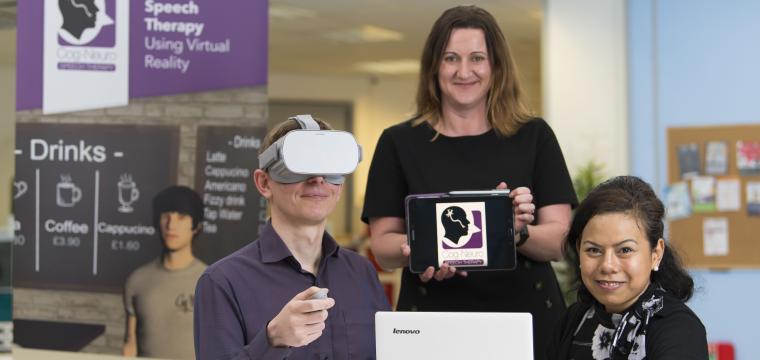 People suffering with communication difficulties are benefitting from a new speech therapy service that has been developed by Caerphilly-based Cog-Neuro Speech Therapy Limited.
With a £25,000 loan from the Development Bank of Wales and a £60,000 grant from Innovate UK, the mobile application has been developed to help people with communication difficulties to regain their ability to communicate, maintain relationships and re-integrate into the community. 
Cog-Neuro was first established by speech therapist Sheiladen Montero Aquino in 2012. She has now developed an application that will enhance speech therapy service for people with communication difficulties following a stroke, brain injury, and other progressive neurological disorders including Parkinson's disease and Multiple Sclerosis.
By using the application, patients can access services during the time when they are most stimulable for rehabilitation or while waiting for a speech therapy appointment from the NHS. Patients and their families who want intensive speech therapy can also use the app alongside speech therapy sessions to support their current rehabilitation program.
The Cog-Neuro application focuses on five areas of language including listening, speaking, reading, writing and thinking (semantics). Gamification and stealth learning has been used to encourage interactivity and concentrated attention, which have been shown to be key factors in neuroplasticity and brain regeneration.
Mini-games target specific linguistic skills with visual instructions and trial options at the start of each game. Feedback is given to users. In addition, each of the games has three levels of difficulty depending on the user's  progress. At the end of the game a report is generated which can be sent via email. It is also possible to customise the game for the client.
Sheiladen Montero Aquino founder of Cog Neuro said: "Throughout my international practice in speech therapy, I have wanted to develop an innovative treatment that will help people communicate again after a stroke, brain injury, Parkinson's or Dementia.
"The Innovate UK funding helped develop the mobile software but we still needed additional finance. Business Wales introduced me to Rhiannon Brewer at the development bank - she understood our business and showed a sincere desire for our success.  She guided me through the process and we received the funds promptly. We found a reliable partner for this journey!
"I'm grateful to the Development Bank of Wales, Business Wales and Innovate UK for their excellent support throughout."
Rhiannon Brewer, Senior Investment Executive with the Development Bank of Wales said: "Working in partnership with other funders and business support organisations to help ambitious and passionate business owners to succeed is what we do best. Each company we work with is different and every deal is bespoke. So, I was particularly pleased  to work with Business Wales and Innovate UK to offer a funding package that really is making a difference to the business whilst improving people's lives.
"The new product from Cog-Neuro will help to benefit some of the 15,500 people in Wales who are estimated to suffer with severe speech and communication problems. It's very rewarding to know that our micro loan is now helping to ensure that people will receive the care  they need to support independence and quality of life."
David apjohn-Williams, Business Wales Regional Manager for South Wales, said: "As well as supporting entrepreneurs and SMEs across Wales to start and expand, collaborating with other support organisations and stakeholders to offer a holistic approach that is tailored to the individual, is paramount to us.
"I am delighted that, together with the Development Bank of Wales and Innovate UK, our advisers were able to support Sheiladen and Cog Neuro to create a robust financial plan and secure the micro loan, as the business continues to develop their life-changing projects."
The Development Bank of Wales offers micro-loans from £1,000 to £50,000 as well as loans and equity up to £5 million.